Home
This rescue was started because of the overwhelming love and respect one woman has for the intelligence, beauty and trust that animals show on a daily basis.
Since September 2003, we have been a non-profit, volunteer based, no kill rescue which has provided a safe haven for unwanted and neglected chinchillas. This has consisted of medical care, a spacious and clean living environment, a healthy diet, exercise and unlimited love. Each chinchilla is given individual attention and care. We started with one woman that had a life changing experience with animals and found herself looking down a life path that she had to follow. We are incorporated in the state of Connecticut and have networked with several other chinchilla rescues across the US to help homeless chinchillas. Our rescue is devoted exclusively to chinchillas and we are the only full time chinchilla rescue in New England.
We do NOT breed chinchillas. We will travel to MA, NH, RI, VT, areas of ME &amp NY, and of course throughout CT, to pick up chinchillas in need of a home.
Mission Statement
We provide a healthy, loving home for unwanted and neglected chinchillas with permanent housing in our rescue and through adoptions. We counsel the public about the physical and emotional needs of chinchillas, so they learn how to provide them with a healthy, safe and happy life. We strive to spread the word about their over breeding, health issues caused by careless breeding and the homeless crisis that is so prevalent for chinchillas. We also provide awareness of the hardships and mass breeding of chinchillas on ranches for the pelting and pet industries.
Chinchillas are very happy, feisty critters and have a tremendous amount of energy. Our wish is that all chinchillas, domestic and wild, live very long, healthy and safe lives and that soon they will be appreciated for their intelligence and inner beauty and no longer sacrificed for their outer beauty. We hope that they can always live to be FOREVER FEISTY CHINCHILLAS.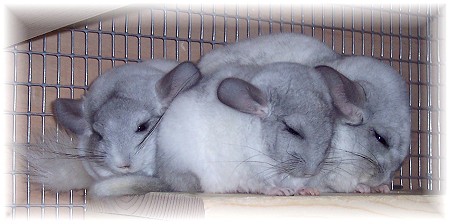 ---